Georgia's Jalen Carter goes down with apparent cramping at UGA Pro Day
March 16, 2023 6:11AM AKDT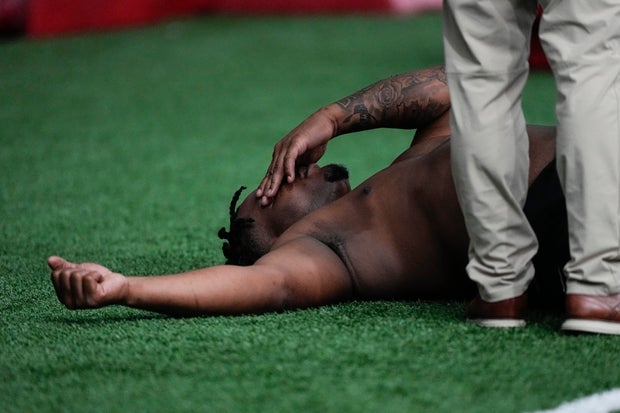 ATHENS, Ga. (AP) — Stetson Bennett gave himself a lukewarm grade for his workout of about 55 passes for NFL scouts, general managers, and coaches at Georgia's pro day on Wednesday.
Jalen Carter didn't stick around to comment on his performance.
Following position drills, he was sprawled on his back with arms outstretched on the turf, suffering from apparent cramps. The defensive tackle did not participate in other tests, including the 40-yard dash and broad jump.
Bennett and Carter helped lead Georgia to back-to-back national championships but each has been dealing with off-field legal problems in a troubled offseason.
Bennett was arrested in Dallas on Jan. 29 and charged with public intoxication. Carter — widely regarded as one of the top picks in the April 28 NFL draft — faces misdemeanor charges of racing and reckless driving in relation to the Jan. 15 crash that killed teammate Devin Willock and Georgia recruiting staffer, Chandler LeCroy. It isn't clear how the charges will affect Carter's draft status.
"We know what comes with the territory of where we are now and things that are going to be out and situations we put ourselves in and how to be responsible," Bennett said after his workout.
The 6-foot-3 Carter weighed 323 pounds on Wednesday. He was listed by Georgia at 300 pounds during the 2022 season and checked in at 314 pounds for the NFL Scouting Combine in late February.
Carter had 32 tackles, including seven for losses, and three sacks as Georgia won its second consecutive national championship.
After the Athens-Clarke County Police Department issued the arrest warrant, Carter posted a statement on his Twitter account on March 1, saying "There is no question in my mind that when all of the facts are known that I will be fully exonerated of any criminal wrongdoing."
Carter has the support of Georgia teammates, including Bennett.
"Jalen is a rock," Bennett said. "He knows who he is. We all know who he is."
Bennett said Carter is quiet and "doesn't talk much. Comes in, does his job. Knows that he's the best one on the field and still does things the right way. … Obviously can get after the quarterback. He's sudden and strong in his suddenness, twitchy, does the right footwork. If you look at him, he's always in a power position. That's why he blows people off the line. That's why I think he is a special player."
Georgia coach Kirby Smart said Carter is "a major talent."
"Very few guys I've coached have the talent he has," Smart said.
Smart had a record 15 Georgia players taken in the 2022 NFL draft, including five defensive players in the first round. Georgia have that many this time, though it's still a strong draft class. Edge rusher Nolan Smith, offensive tackle Broderick Jones, tight end Darnell Washington and cornerback Kelee Ringo join Carter as possible first-round picks.
Three NFL coaches — Atlanta's Arthur Smith, Pittsburgh's Mike Tomlin and Chicago's Matt Eberflus — attended the pro day.
Bennett (5-11, 192) was a former walk-on before becoming one of the most successful players in Georgia history. Even so, he has to prove himself again to scouts and wasn't thrilled with his passing performance.
"I tried to just go and do what I did on tape," Bennett said. "I always thought I had a strong arm, accurate, could move. So really just wanted to go and do what we did everyday in practice. I just wanted to be consistent. That's why I'm a little upset I missed a few today."
---